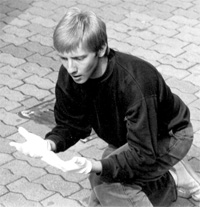 In the 1980's I started my "career" with mime. In 2000 I took part in a three-month basic training in "Mime and Physical Theatre" by Desmond Jones. However, due to a lack of opportunity and a surplus of laziness I'm pretty much out of practice – and shape – by now.
While living in England (1996–2003) I had ample opportunity to get on stage. I was part of the drama group "T.a.X.I." which collected quite a few awards at the annual Welwyn Drama Festival. Maybe the most interesting gig for me personally was a role as singing and dancing pirate in a production of Gilbert & Sullivan's The Pirates of Penzance at the Wyllyotts Theatre in Potters Bar near London.
In 2008 I started a drama group at a local church. It still exists today but without me because I left the church in 2010. Apart from a German musical production of Annie in 2011 (I played Daddy Warbucks) I'm not really active anymore. Only once a year for a week I read stories for children, and in my job I've had a number of recording jobs, e.g. for product videos.